The Japan Collection: Bakery Interior Game Assets
Bakery Update With New Tiles/Tilemaps!
---
Heya all!
I've created some new tiles/tilemaps for the Bakery asset pack!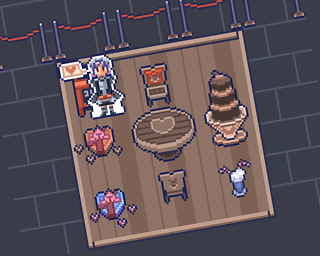 Update is now live and the new ZIP includes:
- Maid Cafe cardboard cut-out
- Cafe table chair (back and front)
- Two versions of boxed chocolates
- Milkshake-for-two
- Wooden Valentine's Day table
- Animated chocolate fondue fountain.
- Updated original tilemap png
- Created two 256x512 tilemaps to be more user friendly with RPGMaker
Enjoy!

Get The Japan Collection: Bakery Interior Game Assets